Pixel Invaderz: Ambitious P2E Game that's out of this galaxy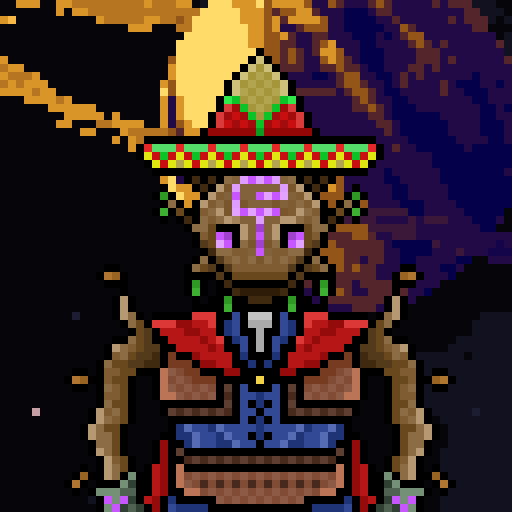 Play to Earn gaming has become increasingly popular in the NFT space. Back in 2018, one of the first highly successful P2E games named Axie Infinity took the NFT community by storm. It's been building rapidly and even earnt the title of the most traded NFT collection of all time.
The core idea behind P2E gaming is that holders can use an NFT character or item to play the game of a project. They will then earn a utility token for participating/winning during play ($AXS in Axie Infinity's case). Players can trade the tokens, allowing them to convert their winnings into cash or other cryptocurrencies.
The next project looking to take the crown over the P2E NFT gaming market is Pixel Invaderz. They've got some unique mechanics to make gameplay fun focused and interesting. On top of the classic retro pixel art style, their roadmap is jam-packed with extras. After you're acquainted with the game, there are plans for a DAO, HODL pool, and loads more utility down the line. Holders earn their $PIXEL token from playing, which is used in many mechanics throughout the game.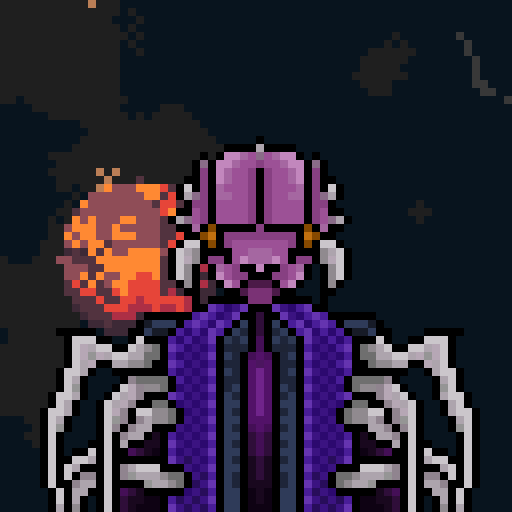 Information on the game from the Pixel Invaderz site:
Harvest the resources of your solar system through building and improving industry to farm our Utility Token PIXEL and many other in-game resources. Refine those resources into more advanced materials to create more useful items and progress your civilization. Use the galactic market to dominate your rivals economy.
Build your space fleet to defend your territory, fight against other players and stave off unknown dangers lurking in the galactic neighborhood. Use your fleet to expand your empire and invade your enemies.Conquer planets and solar systems or form coalitions with other players to jointly rule the galaxy.
We're always curious to learn more about what P2E projects are doing in the NFT space, so we spoke to the founders of Pixel Invaderz to get some alpha on their project.
Project Manager - Hautzy (Twitter)

Could you tell us a little about yourself and your role at Pixel Invaderz?
Hi, my name is Julian, and I'm the team and project lead of the Pixel Invaderz project. I've been working and studying in software engineering for the last 7 to 8 years and am currently finishing my bachelors degree in AI & Data science. Connected to this is my deep passion for crypto and especially NFTs that have absolutely shaped my interests and ambitions in life and especially for this project.

Tell us about Pixel Invaderz – where did the idea come from?
As mentioned earlier, we're all die hard gamers here at Pixel Invaderz that share love towards subjects such as space and science fiction. The idea mainly came to fruition due to us playing space strategy and exploration games around the time we started the project. So I think it is fair to say that our vision of the Pixel Invaderz universe came to prosper due to a combination of the aforementioned types of games and even more important, our collective interest in space, science and technology as a team.
What makes Pixel Invaderz an ideal first NFT for someone new to the space?
Starting out in the NFT ecosystem can be confusing and even dangerous at times considering the many rug-projects the community has seen over the last couple of months. This is exactly why Pixel Invaderz actively engages in anti-rug campaigns and strives to build an active and helpful community for supporting new members on their journey through the NFT-world.
In addition to that, a major advantage of being a Pixel Invaderz owner is the utility that is connected to it. Here our team really tries to lead by example! Individual NFTs won't only be crucial for the Pixel Invaderz NFT-game which is currently in development, but will also feature non-gaming oriented utility like staking in our upcoming HODL-pool, unique NFT-Achievements in collaboration with NFThodl.zone and already existing services like the Galactic Map, NFT-Gallery and leaderboard on our Website.
Taking this even further is the universe we're building behind the individual NFTs. Every Species has its own unique backstory and spot in the galaxy in terms of lore. Combining all this together gives you an NFT-project that you won't find anywhere else.

Why do you think NFTs have become so valuable in such a short space of time?
We believe that NFTs are combining multiple massive and passionate user bases. On one hand you have the entire crypto space which has one of the most active and engaging communities out there and on the other hand you have collectors, gamers, artists and content creators who all share deep interests in a multitude of franchises and topics. In our view, this is a combination that is destined for greatness! Each of these communities house countless talented people that add immense value to the NFT scene and make it very approachable for someone who is already a part of them. In addition to that, we have perceived the overall climate regarding communication in the NFT-space to be very friendly and courteous, especially towards people who're just getting started.
What is the difference between the tokens, PIXEL and EMP?
The PIXEL token will serve as the project's utility token. Its usage covers almost everything in the game we're developing. For example, every planet in the game will have a certain amount of PIXEL that players can mine by building their economy on named stellar objects. Going forward from there, constructing new buildings, crafting and refining as well as other planned parts of the game like raiding and research are all fuelled or work together with this token.
So PIXEL will be the core token when it comes to utility, almost everything in the game will revolve around it.
In contrast, EMP is meant to be our DAO/governance token. People are going to be able to invest in the token to have a say in the future developments of the Pixel Invaderz project. This token is especially interesting for parts of our community that don't want to actively engage in the game or don't have enough free time to do so, as they'll still be able to support and invest in the project long term. In addition to that, an optional in-game utility for EMP has been outlined.

Your long term goal is impressive! Could you explain some more about what you want to achieve?
The long-term goal of Pixel Invaderz is to create an ecosystem that shall be able to fund space exploration and space education in a decentralised and community driven way. Meaning we want our future DAO to decide about investment into small scale space programs, missions and startups in this sector.
Can you give us an overview of the Pixel Invaderz Game and its mechanics?
The core mechanics of our upcoming game are going to revolve around building and managing your own space empire. Next to that, expanding your territory and invading other empires by producing spaceships will be a central part of the gameplay. It is a priority of us that we want to incorporate many play styles as we believe that there are going to be people that want to focus more on economy rather than being at war with other empires. While others simply want to dominate their opponents in total empire strength.
The central aspect of the game will therefore be offering a viable DEFI-product for people to earn the aforementioned tokens, while simultaneously enjoying an immersive and infatuating gameplay experience.

If you could compare the gameplay of Pixel Invaderz to anything, what would you compare it to?
For this question, we would say that the Pixel Invaderz game will feature a mix of famous space strategy games, but also takes smaller gameplay-parts from other genres that together create a product that works especially well with NFTs. If you're interested in space combat, making up strategies or if you enjoy managing, optimising and expanding your space empire and economy, then you're at the right place.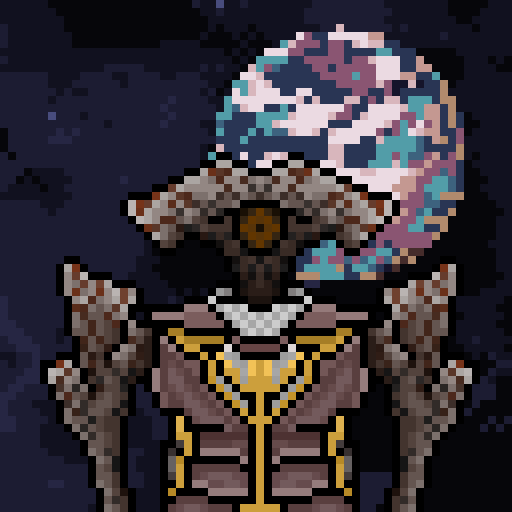 Artists - Mason (Twitter) & Lukas (Twitter)

What has been the biggest influence on your style of work as an artist?
As long time gamers and retro enthusiasts it may not come as a surprise that from a graphical standpoint games like Starbound, Minecraft, Factorio or Doom Classic have been a major influence in how we think about our own artwork. For example, the first time most of us got into pixel art in the first place was through creating our own Minecraft texture packs or mods.
Our favour for realism is what really took us down the rabbit hole when creating the artwork as we wanted the most accurate representation of what was in our head to be projected onto the very limited canvas of just 64 by 64 pixels. Even so, it soon became apparent that this limitation was actually an awesome opportunity for us to sketch down new ideas quickly, thus creating a wider variety of traits for our NFTs.
From a content perspective we took much of our inspiration from games like No Man's Sky, Stellaris, Subnautica and Half-Life but also big movies and series like Star Wars and Star Trek. Furthermore, the team has always been enamoured by the endless possibilities of outer space and observing the vast array of cosmic objects such as planets or comets which led us to having space as one of our main inspirations.
What made you pursue art in the NFT space?
The team had been thinking about entering the NFT space a long time before we actually started, but during this time most of us were busy with other projects. We were pleasantly surprised when we had all come to the conclusion of starting Pixel Invaderz, as time went on we saw many great projects rise and fall, but we knew that Pixel Invaderz was here to stay, so we have given it our all since then.
When first starting out, a major criticism of us about the then current NFT-space was that, most collections with more than 1000+ pieces didn't offer the variety in traits and designs that one would expect for such a large amount of artworks. Because of this we decided to do things differently and have multiple characters (aliens), hats, outfits, backgrounds etc. that are all individual in a unique way.
Are there any other NFT or traditional artists that influence your work?
Oh definitely! And as it turns out, to find proper inspiration we had to look outside the NFT-space at first. The work of extremely talented artists like: C. M. Kosemen, Alex Ries, Francisco Charlie Hernandez and Kristoffer Zetterstrand gave us the proper guidance we needed to develop our very own thinking about creating truly unique and abstract alien artworks.
Even in current times, most people think of aliens as green coloured human-like beings that live on Mars. We believe that this could not be further from the truth. For something to feel alien, it must provoke emotions that are usually not felt when encountering familiar creatures or objects. At the end of the day, who knows what's actually out there? So we just have to let our imagination run freely!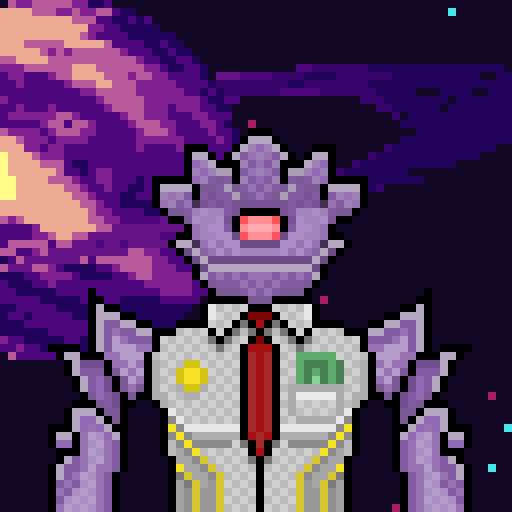 Could you tell us a bit about the design process, how long each piece took to create, and any challenges you experienced along the way?
Like with most art made, everything starts with a rough sketch to get into the flow… After collecting a few ideas, we pick those that we feel fit best into our project and create a first rough version of that on the digital canvas at the computer. From there on, finalising the shape and choosing colours are the next steps, until we reach the shading process. Here most of the details are getting refined and more integrated into the artwork. One could say that this is the point where the artwork is finished, but there are some additional caveats that need to be worked out, considering we're working with NFT art here.
Since we use a generative method to create Pixel Invaderz artworks, we have to spend a lot of time refining and adjusting individual components to fit together with every piece perfectly. Further, coding the logic for putting everything together into the final NFT-Artwork is a major effort. This includes setting and defining the different attributes like skin, eye colours, backgrounds, stellar objects and other traits.
Considering all this, specifying an exact time for each artwork is impossible, as there are so many things that go into creating one particular NFT. But one thing adding more time than we expected were the challenges that go along with creating this kind of artwork. For the most part, making the logic work together with the art we have created proved most difficult, as unforeseen inconveniences like errors in positioning individual pieces and file management issues slightly slowed down our progress.

What is your favourite NFT that you've designed so far?
For me (Mason) as the lead artist, I personally most like the work we have done on the Monovrach and Cephaloids species, as they perfectly embrace the transition between pixel art and realism. If I had to pick an individual piece, it would be Pixel Invader #3431 as this one perfectly encompasses the atmosphere we've aimed for.
(Lukas) Being one of the new designers in the team, I am most proud of the Hanimec. I put a lot of effort into designing them, and they also got changed drastically during the design process. Individually, I like Invader #4034 because it not only has a great color combination but also because its profession reflects parts of the species' lore.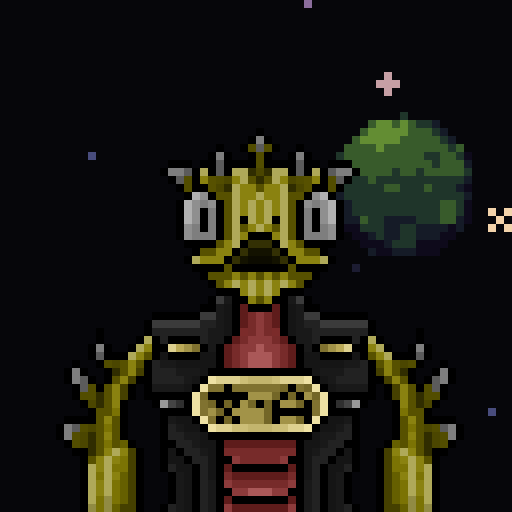 Final Thoughts
It was a pleasure to learn how the team behind Pixel Invaderz created this entire universe for their project. Their mission is as unique and interesting as the art and lore. We can only hope that if they continue down this path, they will contribute to the next generation of space exploration and build a more sustainable future through the power of NFTs.
As with any project on our blog, we strongly advise you to do your own research before investing.
Check out Pixel Invaderz:
Website: https://www.pixelinvaderz.com/
Discord: https://discord.gg/XBMTJTmq8Q
Twitter: https://twitter.com/pixelinvaderz